Back to staff directory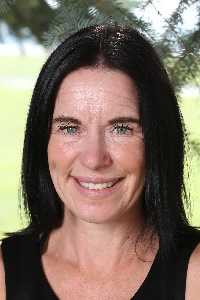 Teacher
Phone: 403-337-3326
I am blessed to teach Grade five with my amazing team teachers, Mrs. Laura Lee Hrabok and Mrs. Teri Sadek. I focus on the subject areas of Language Arts and Math. This is my seventh year teaching grade at HSS; I previously worked at CES, teaching grades one and three.
I received my Bachelor of Arts with a major in English and a minor in Social Geography from the University of Northern British Columbia in Prince George, B.C. My teaching degree and Bachelor of Education were obtained from Simon Fraser University in Vancouver, B.C. I grew up in British Columbia, but am now happy to call Alberta home.
My husband and I raise our three kids on a small farm just west of town. We love to be outside with our animals and in the garden. At the end of the day, you will always find me curled up with a book (we love to do that in 5D too)! In the autumn, we hope to offer a lunch time Reading Club in our classroom for grades three to six.
As teacher rep for Hugh Sutherland School's Parent Council, I look forward to meeting the parents of the children I have yet to teach and I always enjoy a visit with the ones from years past.