Back to all posts
Posted on
Mental Wellness Day for Schools - June 3rd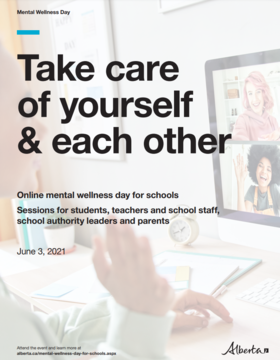 A note from Education Minister Adriana LaGrange:
As we move through this pandemic, mental health and wellness in our school communities is top-of-mind. The resilience and fortitude shown across our province and especially in our schools has been evident. I thank you for everything you have done and continue to do to support the well-being of students and staff.
In recognition of this and the continued need to build our collective capacity to support mental health and well‑being, I invite students, teachers, support staff, parents, administrators and Board members to come together on Thursday, June 3, to participate in Mental Wellness Day for Schools—with the theme 'Take care of yourself and each other'. I invite you to mark this day in your calendar and visit the website for detailed information, including the agenda.